Ecuador, March 3, 2012: The Coast
The big plan for today was a boat trip to La Isla de la Plata, since we had missed out the day before due to construction on the island, or so we were told. Unfortunately, today we were doomed to a similar fate. Despite early hope we were forced to quickly accept the fact that we would not be visiting La Isla de la Plata. Not on this trip, anyway. As an alternative, we decided to take a four hour coastal boat tour that took us out to a different island and provided some time for snorkeling and swimming. It was a bit slow to get going – typically Ecuadorian. The guide kept leading us deeper and deeper into a local fish market, pointing out different fish in what seemed like a blatant attempt to stall. But once we found the boat and got going, I had a nice time.
A group of blue-footed boobies visible from our boat
Rock formations off the coast
It was good to be out at sea and have the chance to swim in the ocean, which was the ideal temperature. I was a bit burned from the day before, so I was happy that it was a shorter day out, and also that the boat had a roof! I think the boys were a bit disappointed, though. C'est la vie, especially in Ecuador, it seems.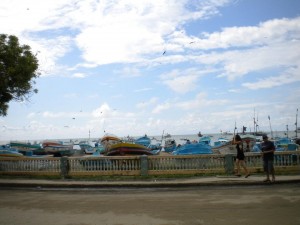 The Puerto López waterfront
After our outing we hit the road to La Libertad, where Carlos' grandmother lives, along with a number of other family members. What lovely people! I especially enjoyed talking with his Tia Elena. She was very chatty, not pausing for a moment for me to attempt a translation for Chris, who sat nearby watching us talk. We were planning to go out to dinner at a local cevicheria that Carlos liked, but before leaving his aunt insisted on making us a "snack," which turned out to actually be a large meal. The food was delicious and I had been told that turning down food from your host was an insult, but I knew that ceviche on the beach was in my future. I tried to control myself.
The day concluded with the three of us sharing a ceviche feast and cold beers at a neighborhood joint located just feet from the ocean. I was glad I saved some stomach room! The ceviche was delicious, and the combination of the feast and the atmosphere perfectly captured the coastal vibe. It was a great way to cap off our active day and really, our entire Ecuadorian adventure.
A ceviche feast fit for a rey